Specialty Copper Alloy Extrusion Manufacturing
Copper Extrusion
As a Specialty Copper Mill, our high quality extruded shapes, rods, and bars are produced from billets we cast in-house. The necessary materials are carefully combined in our two large induction furnaces, and before pouring each heat, the chemical composition is evaluated in our laboratory. This ensures precise control of the desired alloy composition. The billets are then cast in a controlled environment and cut to predetermined lengths for the extrusion process. Once the billets are thoroughly heated, they are extruded in one of our two hydraulic presses.
Semi-finished copper extrusions are then transferred to our drawing area where they are pointed and drawn. Within our mill department, we have many pieces of specialized equipment to point, draw, straighten, cold roll, and coil material.
At specific points in the manufacturing process, we check and monitor the chemical, mechanical, and electrical properties of the material to guarantee that it meets or exceeds your specification.
Some of the tests we routinely perform include:
Tensile
Emission Spectrometer
Rockwell Hardness
Conductivity
Resistivity
Hydrogen Embrittlement
Oxygen PPM Analysis
Atomic Absorption Spectrometer Testing
Grain Size Evaluation
As a leading producer of custom and standard shaped copper extrusions, we carry an extensive tooling inventory consisting of several thousand dies. However, if custom tooling is necessary, you can rely on our seasoned toolmakers and state of the art equipment to produce all required extrusion and draw dies in house. We can provide a material Certificate of Compliance with your shipment, or if requested, we will conduct Full Metal Tests for a minimal charge. We welcome the opportunity to review your copper extrusion requirements.
When you purchase copper extrusions from Electric Materials, it is right the first time – on time – every time.
800.356.2211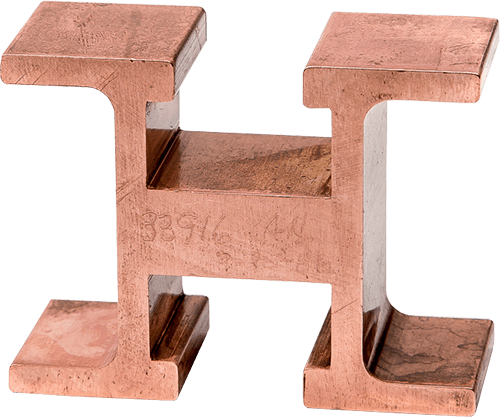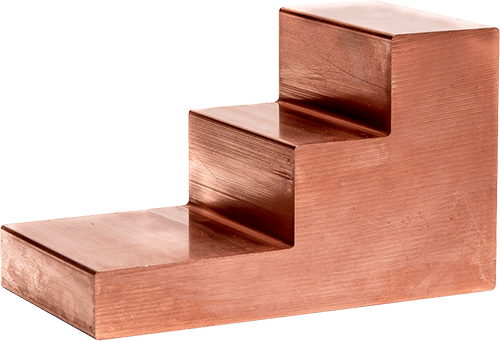 Milled Copper Products
High-quality rods, bars, and extrusions from our specialty mills are available in a virtually unlimited variety of shapes, sizes, lengths, and alloys. Examples of Mill Products include
Commutator Bar
Rotor Bar
Custom Shapes
Rectangular Bar
Round Bar
Square Bar
Hex Bar
Half Rounds
Coil Stock
Mill Product Applications
We are proud of the world-class customers we service and the wide variety of applications in which our extrusions are used.
AC & DC Motors
Generators
Electrical Connectors
Switches
Transformers
Switchgear
Architectural
Circuit Breakers
Contacts
Hardware
Bushings
Preferred Copper Alloys for Extrusion
Additional wrought copper alloys are available upon request.
Electric Materials manufactures extrusions and fabricated components that encompass a vast array of products for both electrical and mechanical applications that are cast, extruded, forged, brazed, machined, or electroplated. Check out our
component manufacturing
and all of our metal working capabilities and production methods at EM.