Copper Alloy Supply and Manufacturing
Supplying Billets, Rods, Bars, and Extrusions
A Leader in Copper Alloys
For over a century, Electric Materials has been recognized as a leader in the manufacture and supply of copper alloys. Founded in 1915 as a "Copper Works", EM has evolved into a complex manufacturing company of copper products for a wide variety of industries including the electrical, mining and transportation markets to name a few. Working from a manufacturing facility which covers 420,000 square feet, EM is a multifaceted organization with six separate production departments. Areas of expertise include:
Semi-continuous casting, sand, and permanent mold casting (Die Casting)
Underwater extrusion
Forging
Finish machining
Electroplating
Commutator and AC Rotor manufacturing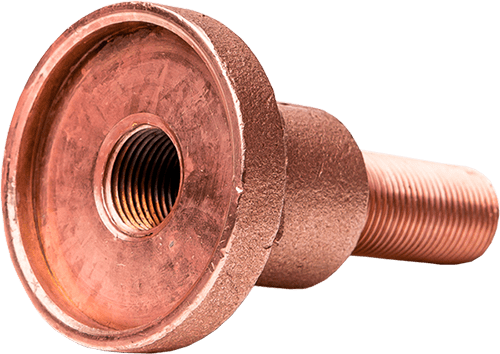 Wrought Copper Alloys for Rods, Bars and Specialty Extrusions
Electric Material's specialized mills work with 24 wrought copper alloys regularly producing high quality rods, bars, and extrusions. These products are available in an unlimited variety of shapes, sizes, and lengths (copper alloy cold rolling, stamping, punching, and other services are also available).
As a fully integrated copper mill, our process begins with copper billet production. Prior to pouring, our metallurgical laboratory analyzes the chemical composition for adherence to established standards. Alloy properties are checked again at regular intervals throughout the mill process per our in-house quality assurance program, in coordination with our established ISO-9001:2015 quality control system. Our vertical integration enables us to produce highly engineered components from billet production through the extrusion and cold working processes. We then provide finish machining and electroplating as required. In-house tool design and manufacture ensures rapid service, and enables design changes to be implemented quickly. These unique turnkey capabilities keep all operations in-house and increases product throughput, improves quality, and reduces overall product costs.
Custom Sand Casting & Permanent Mold Casting
As a supplier of custom copper alloys, Electric Materials(EM) specializes in both sand casting and permanent mold casting. Our high-conductivity copper alloys are available for a wide variety of electrical and mechanical applications. Desirable properties include excellent thermal and electrical conductivity, high resistance to corrosion, and good mechanical strength. Our extensive history as a copper alloy supplier allows us to easily handle small and large volume orders with parts weighing a few ounces up to 600 pounds.